How does your website rank?
Wonder no more.
Your complimentary report will include: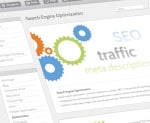 How your site currently ranks for your 3 most important keywords.
How your site currently ranks against 3 competitors.
How relevant page content is to your keywords.
Findability and usability improvement suggestions.
For B2B and industrial manufacturing websites, driving targeted leads to the website is key to improving lead generation activities. But just as important is the user's experience once they land on your site – do they understand what you do, what you offer, and why you are better than the competition? Can they easily navigate through the site to find the information they need to take the next step? This audit is your first step in gaining insight into the findability and usability of your website.
Please fill out the form to the right to receive your personalized report complete with suggestions for future action.
We've required (*) most information to better help us provide you with a meaningful and actionable report. Rest assured that we will not share your information — it will be used only to help us build your customized report.
Thanks and we look forward to enlightening you!
Expect your report within 5 business days of submitting your information.